News & Events
1-DAY HOSPITALITY TRAINING
2023-06-26
The Central Regional Development Commission (CEDECOM) organized a training program for selected hospitality industry players on Monday, June 12, 2023. The one-day program, which was held at the CEDECOM house, had 25 participants who came from various hotels and restaurants in and around Cape Coast.
In her welcome address, Mrs. Nicole Ama Abraham, Acting Executive Director of CEDECOM, emphasized the significance of the Central Region in Ghana's tourism industry and hence the need to continuously build the capacities of industry players. She added that, the training program has come at the right time because hoteliers and restaurateurs are expected to provide high-quality services to their clients especially during the upcoming PANAFEST and Fetu Afahye festivities.
In her remarks, Mrs. Dorcas Lomotey, head of CEDECOM's Field Operations Department, said that hotels and restaurants are among the first places tourists go when they visit the region, so they need help to provide top-notch services to their customers. According to Mrs. Lomotey, CEDECOM is putting in a lot of effort to introduce novel concepts and strategies into the hospitality sector for the benefit of all in order to improve the delivery and preserve the credibility of the service sector.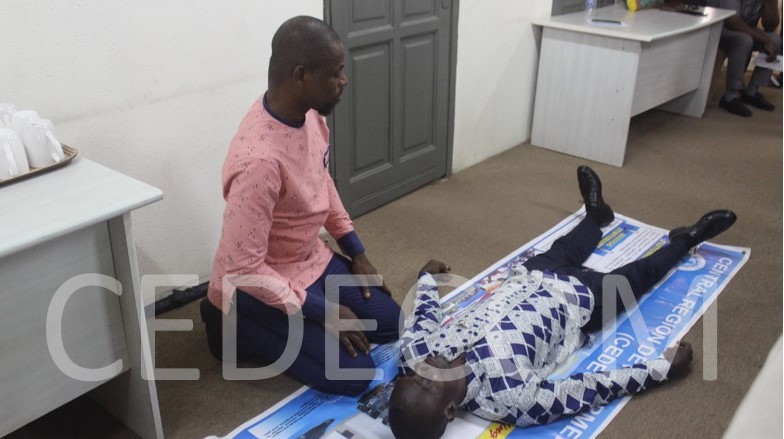 Participants were guided through Customer Care, Front Desk Duties, and First Aid by the resource persons, Mr. Gabriel Fiatui, Head of Investment Promotion at CEDECOM, and Mr. Mohammed Baidoo, Acting Regional Director of the Ghana Red Cross.
In her final remarks, the Acting Executive Director commended participants and resource persons for their hard work. She said that CEDECOM will keep giving the hospitality industry more innovative support to grow the tourism sector in the Central Region.
CEDECOM Communications.